Welcome to Lowton Junior and Infant School, encouraging growth at every stage of your child's development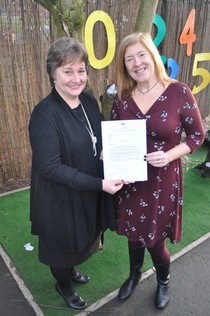 LOWTON J & I PRAISED BY MINISTER FOR SCHOOLS
"Your results show that you are amongst the 250 top performing schools in terms of the progress your pupils made between key stage 1 and the end of key stage 2.
Your school is exceptionally effective in educating pupils"
David Laws MP, 18th December 2013
To read the letter in full, please click on the following link:-
Lowton Junior & Infant School News
School Uniform
Please refer to the 'School Uniform' section, under the 'School Information' heading for the latest information on the new school uniform.
Have a great Summer Holiday!
Back at school - Tuesday 2nd September 2014
Homework - Help for parents
We now have a new section on our website including Maths prompt sheets with examples. These can be found by clicking on Homework - Help for parents in the main menu.
News Page »
Message from the Headteachers:
At Lowton Junior and Infant School, we promote a caring supportive environment in which each individual is valued and respected. We have high expectations for all and aspire to achieve excellence.
Although we hope that you find the website useful, there is only one true way to find out about us and that is to come and visit our school. Just call in or contact us on 01942 673213 to make an appointment. You will be shown around and any questions you have will be truthfully answered.
We hope to see you soon.
Mrs M Silcock & Mrs A J Davies
Co Headteachers